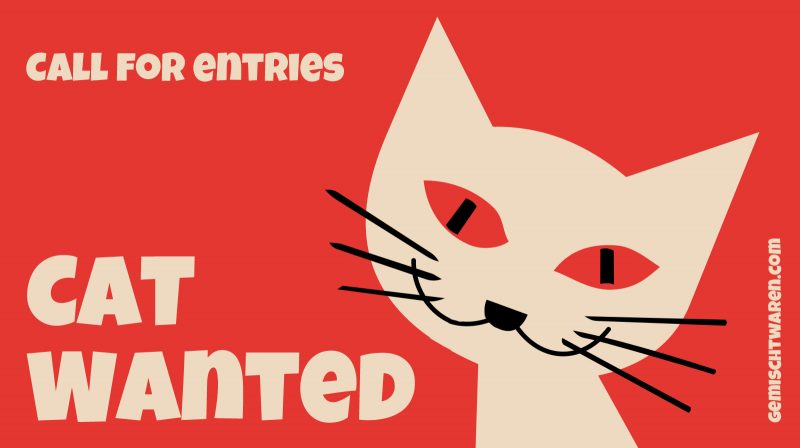 "gemischtwaren" means mixed store or general shop. gemischtwaren.com is a mail order company located in Cologne/Germany, it is also a small publishing house under construction. In our store here you can find many self-published postcards, so far mostly postcards.
Now we want to create a new postcard set with the working title Ten contemporary cats. And for this we need your help:
We are looking for your cat pictures! Painted or drawn, photography or illustration, graphic or painting – send us your pictures. We want to make a single art postcard out of ten of the sent pictures, and sell them individually or as a set. All we need is a file from you, and we'll take care of the rest.
In a first edition we want to print 1000 postcards per motif. Format Din A6, portrait or landscape, borderless or with border, whole motif or cutout – as it fits best.
This project is international in scope. Artists from all over the world will be represented in the postcard set.
Interested? Then send us an email to katzen[at]gemischtwaren.com – If you want to attach pictures of your motifs directly, then PLEASE only small(!) files at first. If necessary we will ask you for print-ready files.
The small print:
You must be the owner of the rights to the image and give them to us for the printing of the postcard.
You will receive a small financial fee, as well as some copies of your card and the whole set. More details on request.
You will receive the fee as soon as we receive your print approval, but we will need an invoice from you.
If we receive many high-quality submissions, we will consider publishing them in book form. Of course only after consultation with you.
We reserve the right to make the final selection of which motifs we actually print and publish. You have no right to publication.
The cards will be sold by us in mail order and stationary trade.
We look forward to receiving your submissions by March 31, 2022. The postcards and sets should then be available in mid-May 2022.You will receive all details in a separate PDF.
Translated with www.DeepL.com/Translator (free version)